(in)couraged to hope – unglued #2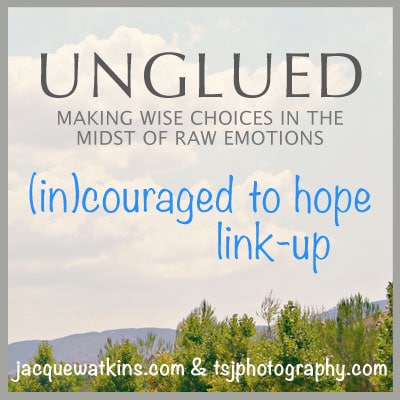 Welcome to week two of our Unglued study! How did the first week go for y'all? What were some things that stood out most? What did you learn about yourselves?
Does your book look like mine? :)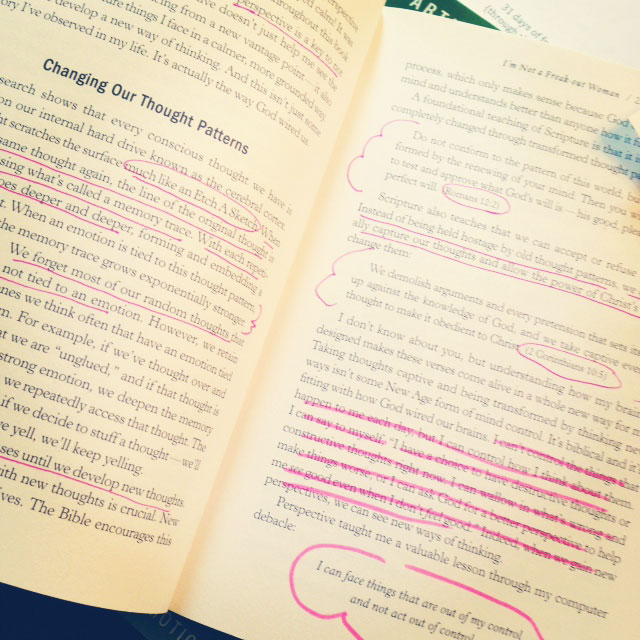 I thought it was so important … and wise … to start out the week understanding our thoughts when it comes to change. By doing that, I was able to give myself permission to make slow, but steady progress. I have a tendency to want to see immediate change, and if I don't, I give up. Anyone relate?
I'm finding it so scary interesting to study my unglued moments … gentle noticing, as author Lysa Terkeurst puts it. It's almost like having someone peek in or listen in when you didn't realize they were watching. How different we are when we know we're being watched. Keeping a record of my unglued moments is definitely keeping me accountable! How 'bout you?
I can't control things that happen to me each day, but I can control how I think about them. I can say to myself, "I have a choice to have destructive thoughts right now or constructive thoughts. I can wallow in what's wrong and make things worse or I can ask God for a better perspective to help me see good even when I don't feel good. ~ Unglued, page 23
I love that passage! We do have a choice friends, and I'm thankful we're on this journey, with God's help, to gain better perspectives. Week one was a great starting point and I'm excited to see where week two leads!
This week is titled "Freedom for the Unglued." We'll learn how to find freedom in the labels we've been given … given by ourselves, or maybe someone else has labeled us. With God there are no labels, only freedom. Lysa says, "Labels only stick if I let them."
We'll also learn to let God chisel away at our hard places.
God doesn't allow the unglued moments of our lives to happen s
we'll label ourselves and stay stuck. He allows the unglued moments to make us
aware of the chiseling that needs to be done. ~ Unglued, pages 36 & 37
Lastly, we'll be digging into and identifying which type of unglued we become … it's good stuff! Lots of growing to be done this week and I can't wait!
So now it's your turn … Jacque and I are so looking forward to hearing from you! We'd love you to leave a comment or link up your own post … how has this study impacted your life so far?
Posted in (in) courage
---