(in)couraged to hope – unglued #5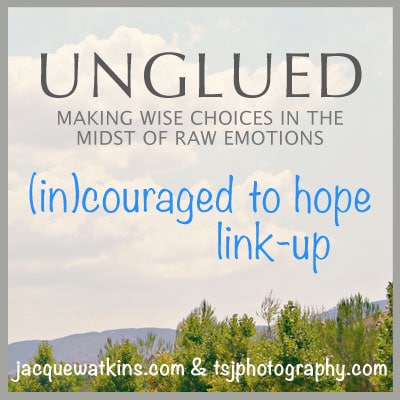 I strongly believe God brings hope to hopeless situations and Lysa is proving it to be true with each word I read in her latest book, Unglued.
I'm so thankful Jacque and I are leading this journey of (in)couraged to Hope and pray God is meeting over 80 women in our "messes" as we read through the truths Lysa is sharing.
I don't know about you, but I love me a step-by-step instruction guide! I think Lysa must've known most of us would need some clear cut guidance along our journey!
My biggest take-away from this past week is this "short version" Lysa's put together. She calls it her "predetermined biblical procedure manual," and it's a tool I plan to use over and over again!
Alarmed, Lysa resolved to remember who she is.
Jesus, Jesus, Jesus.
Stay in the flow – my job is obedience, God's job is results.
Shift from an attitude to gratitude.
Reactions determine my reach.
I'm looking forward to connecting and hearing what your favorite take-aways were this week!
Join me today over at Jacque's today, as we dive into the next chapter in Lysa's book Unglued.



Posted in (in) courage
---