focused15 :: intentional bible studies
I'm excited to share this resource with you today! Be sure to watch the video below for my specific thoughts … but I'd like to quickly mention … for anyone looking to not only dive deeper into God's Word, but also have a focused Bible study … this is the one for you!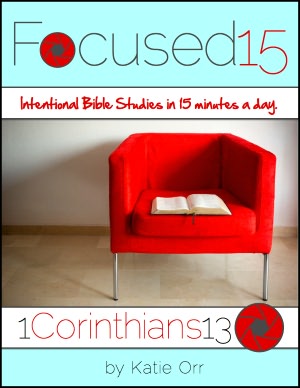 From the author:
You may be thinking you don't have time to dig into the Bible the way you want to—or the way you think you should. You may think that a deep study of scripture is only for the pastor, the seminary student, or the uber-spiritual.
You're wrong—the "ordinary" Christian can learn to to study the Bible on his own.
The every-day believer can train her eye to discover the life-changing truths held in scripture.
You can dig into the Bible and find truths for yourself-all it takes is fifteen focused minutes.
In Focused15, I'll show you how to look at scripture through a different lens each day. We'll use tools already at our fingertips, with methods proven through history, with a structure that is easy to follow…
…all in fifteen minutes day.
If you are ready to take your personal Bible study to the next level, but not sure how, Focused15 is for you.

Trust me! I know you'll love it! Focus15 is available for Kindle and Nook and you can purchase the PDF download from the Focused15 website. Let me know what you think …
{care to have each tsj photography post delivered
right to your inbox? click here to have it happen!}
Posted in bible, bible study, movie, resources
---