Whenever you cross my mind,
I thank my God for you
and for the gift of knowing you.
Philippians 1:3 {Voice}
Taylor
Taylor … my precious firstborn … sweet girl, you hold a special place in my heart. You always have and you always will. I've always felt so protective of you and your heart. I want so much for you in this life, my love. And what I've finally come to realize? YOU want so much for you too! I can't tell you how much peace it brings me to see the beautiful, mature, young woman you've become!
Our Father has His hand on you babygirl. Lean on Him, continue to trust in His plan for your life, and know I will ALWAYS be by your side loving you, cheering for you, and guiding you through.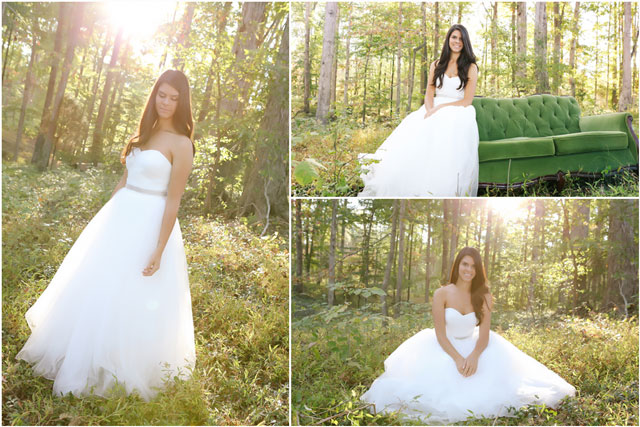 Piper
Piper, I smile just thinking of you. My wide-eyed-soulful girl. You are a beautiful, precious girl Piper. I pray you take that truth and tuck it deep into your soul and never forget it. You have a deeper sense of the people around you than most others your age. You are a good friend. You're thoughtful and caring.
The Lord created you for a special purpose … He created you, uniquely you. There's no other like you Piper J. And I promise to always be here journeying alongside of you as we learn together what your place in this world looks like.
Always remember how loved you are, and how very, very thankful I am that you were given to me to guide through this life.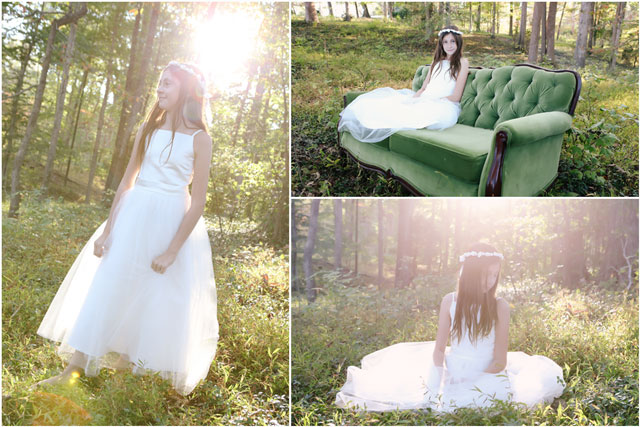 Wynter
My Wyntie. Oh sweet Wynt. I thought I had you all figured out, but you've been surprising me lately. Keeping me on my toes for sure as I try to navigate your emotions.
You're a blessed girl Wynter. The Lord has blessed you with some amazing gifts, and I pray sweet Wynter, you learn how to harness these gifts to use for good things in your life … and in this world. Along with the gifts He's given you, you've also been blessed with some challenges. "Blessed?" you might ask. "Yes, blessed." Because blessed are those who can take the challenges allowed in their lives, overcome them, and use them for His glory.
I believe that is your story Wynter. And I can't wait to watch the pages turn in your life.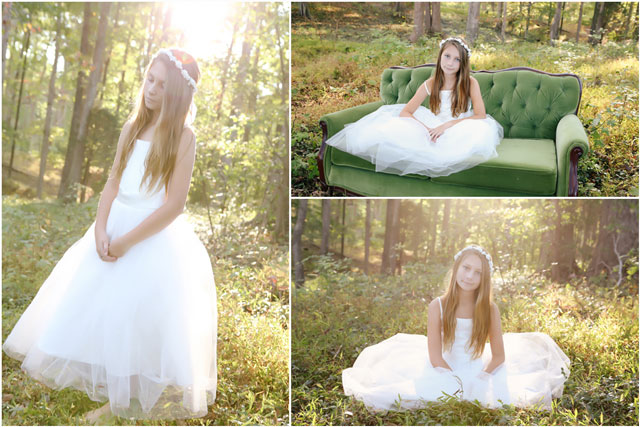 Hunter
Hunter, my littlest blessing. You've completed our family sweet girl. I didn't know how badly we needed you until you graced our family with your arrival. It seems you've been working to catch up with your sisters since the day you were born. They've had their bond formed and you're struggling to find your place. Keep working sweet girl … keep your heart open and know how much you are loved.
You have a precious place in our family and in this world. There are great things in store for you my love and I can't wait to watch them unfold!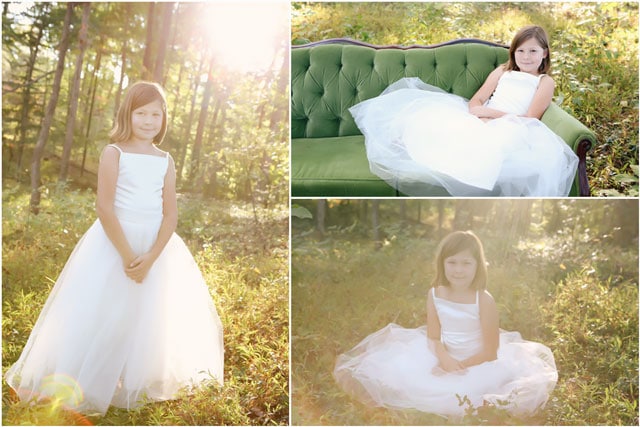 Posted in blessed, family photos, girls, hunter, photography, piper, taylor, wynter
---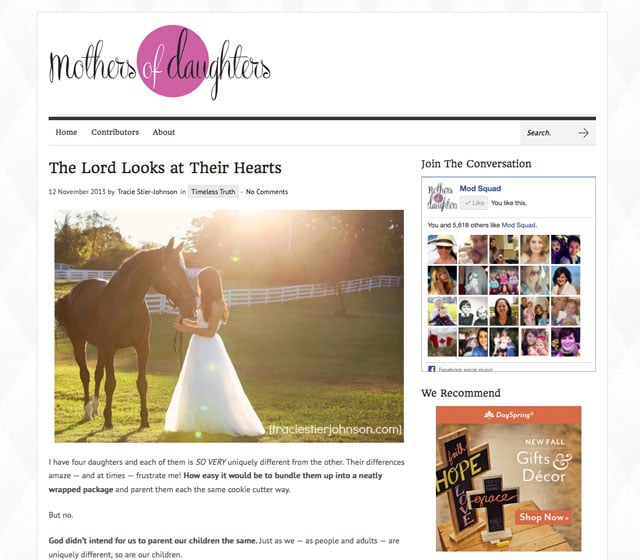 Join me this month as I share my thoughts on why it's so very important to know who your children are. God's created them individually unique and I believe it's our responsibility as parents to dig deep into understanding their hearts and uniqueness.
And if you haven't been to the new Mothers of Daughters site yet, I encourage you to browse through the beautiful encouragement and timeless truths so important in raising godly women in today's world.
Posted in guest post, modsquad, parenting
---

This week's bundle includes encouragement for the weary mom, practical parenting tips and devotions to help you focus your heart even from the trenches of parenthood.
Get all five of these ebooks at a discount of more than 70% off:
Parenting from the Overflow by Teri Lynne Underwood
In Parenting from the Overflow, Teri Lynne offers a biblically-based framework for living in the abundance God has for each of us…and modeling that life for our children.Rather than focusing on tips and techniques, she explores how our lives can overflow with qualities such as love, patience, grace, and courage — all rooted in God's work in us, not our efforts or abilities. This is a practical and encouraging ebook, filled with honest stories from her own journey of learning to lean into God so the overflow of Him pours onto those around her.
Devotions, Advice & Renewal for When Motherhood Feels Too Hard by Kelly Crawford
Motherhood is hard. That's a fact. It's labor-intensive, requiring the extraordinary courage and sacrifice of women who know much of their labor will not receive earthly accolades. Mothers are the "wind beneath the wings" of the next generation. If a group of people needs encouragement and help, it's the mothers of our day! Kelly's Devotions, Advice & Renewal for When Motherhood Feels Too Hard is a book you will want to read over and over, written in small snippets for daily renewal. It is refreshing and inspiring, casting a vision for motherhood you may have never known and offering practical "survival tips" for the overwhelmed mom.
The Heart of Simplicity by various authors
Today's typical lifestyle is marked by busyness, consumerism, and stress. We, as women, often complain that there's not enough time to "do it all." Do we suffer from a lack of time? No. We suffer from a lack of eternal perspective. How we invest our time on earth will impact eternity in a million ways. In The Heart of Simplicity, more than a dozen Christian women share their experience simplifying their lives from the inside out to build homemaking foundations focused on Christ. When we are faithful to focus on what is truly essential in our homemaking, we can build an eternal legacy…one simple day at a time.
Refuel Your Inner SuperMom by Rosann Cunningham
Refuel Your Inner SuperMom offers practical advice and encouragement for the mom who strives to do and be her best but who, due to the often overwhelming chaos of life, has simply lost her focus, her motivation and her groove. Take the journey with Rosann as she shares the depths of her heart and her own failures in motherhood, marriage and life, while taking positive, intentionally focused steps to getting her SuperMom groove back. This isn't your average "How to Become SuperMom" book; it's written and designed in a way that allows it to be more of a journey of self-discovery and intentionally focused lifestyle change — for the better. And all for the glory of God.
The Family Table by Arabah Joy
The Family Table is a beautifully designed ebook packed with over 50 ideas, activities, games, and recipes to spark intimacy, connection, laughter, service, hospitality, and making memories as a family. Arabah gives you a sneak peek into what other families are doing to revolutionize their time around the family table as well as the tools you need to approach your mealtimes intentionally as well.

The Christian Parenting bundle is only available through 8am EST on Monday, 11/18. Get yours today!
Posted in parenting, resources
---

This week's bundle offers a collection of ebooks to help you celebrate a simple Christmas with traditional activities, homemade gifts, healthy recipes and a devotional for the advent season. Save more than 75% as you rediscover and focus on the true meaning of Christmas!
Pioneering Today: A Homemade Christmas by Melissa K Norris
In Pioneering Today: A Homemade Christmas, Melissa offers inspiration for getting back to the true meaning of Christmas, tips for homemade baked goods when you're stretched for time, tutorials for homemade, affordable gifts people will use and like, and ideas for giving the gift of yourself to your loved ones with special planned activities. With over 36 recipes, homemade gift and decor ideas, she shows you how to experience a simple Christmas with the joy it was meant to have.
Holiday Mixes: Gifts in a Jar by Kristy Howard
Are you looking for thoughtful yet inexpensive gift ideas? Holiday Quick Mixes & Gifts in a Jar includes 19 of Kristy's favorite healthy, frugal and simple Christmas gift recipes, such as Candy Cane Cocoa, Snickerdoodle Cookies Mix, Winter Morning Mocha and Homemade Chicken Noodle Soup Mix. Discover the fun of gifts in a jar to give as individual gifts or add to your Christmas goodie baskets this year!
Festive Traditions: A Real Food Guide to the Holidays by Jill Marks
Festive Traditions is a wonderful collection of 31 real food holiday favorites that are perfect for all of your holiday activities — from Christmas morning brunch to caroling with the kids. You'll find appetizers (perfect to pass at a party), main dishes, drinks, and even desserts with plenty of gluten- and allergen-free options for those on special diets. With Festive Traditions, you can enjoy your holidays without the junk!
When God Draws Near by Teri Lynn Underwood
In When God Draws Near, Teri Lynn offers 28 advent devotions to share the story of God's plan for redemption from Genesis through Revelation. This devotional isn't simply the Christmas story found in Luke. It's a journey to grasp the wonder when God draws near, to know the fullness of the story of redemption. This story didn't begin on Christmas Eve in a manger in Bethlehem and didn't end with the Magi's visit, and Teri Lynne starts at the beginning of the story in Eden and walks you through to the end of this story…eternity with Christ.
Christmas Celebrations: Advent, Christmas & Epiphany by Kerry Beck
Discover the origins of Christmas traditions like the Yuletide Log, Christmas cards, stockings and more in Kerry's Christmas Celebrations. With ideas for celebrating Advent, Christmas and Epiphany, including a devotional calendar with Bible reading schedule, traditional Christmas carols, activities for the Twelve Days of Christmas and more, this ebook is packed full of ideas for a meaningful, traditional Christmas celebration!

The Celebrating Christmas bundle is only available through 8am EST on Monday, 11/11. Get yours today!
Posted in resources
---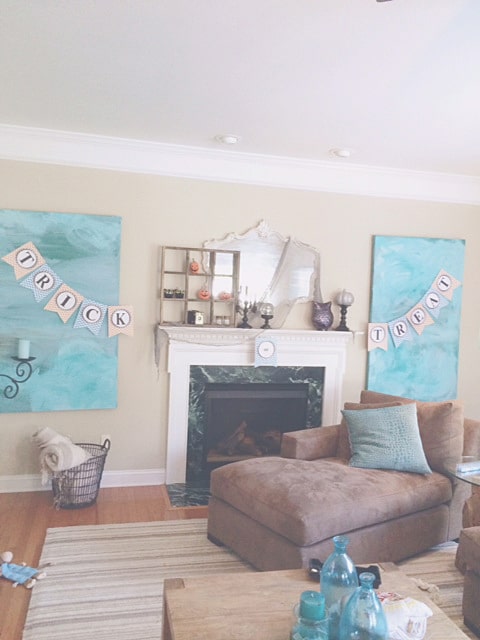 I've been inspired by all the fun mantles I've been seeing on Pinterest lately, so I did a little Halloween decorating this year and thought I'd share it with y'all!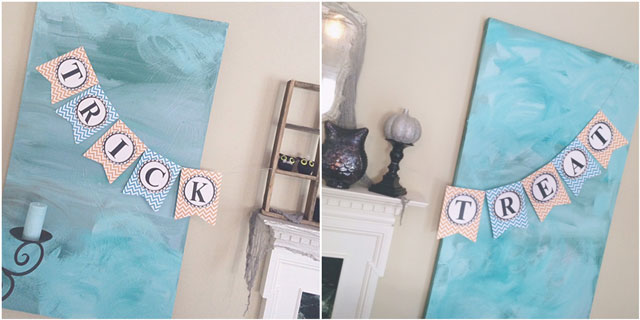 I searched high-and-low for a just-right banner and did a little happy dance when I found this one! It's perfect and makes my heart flutter!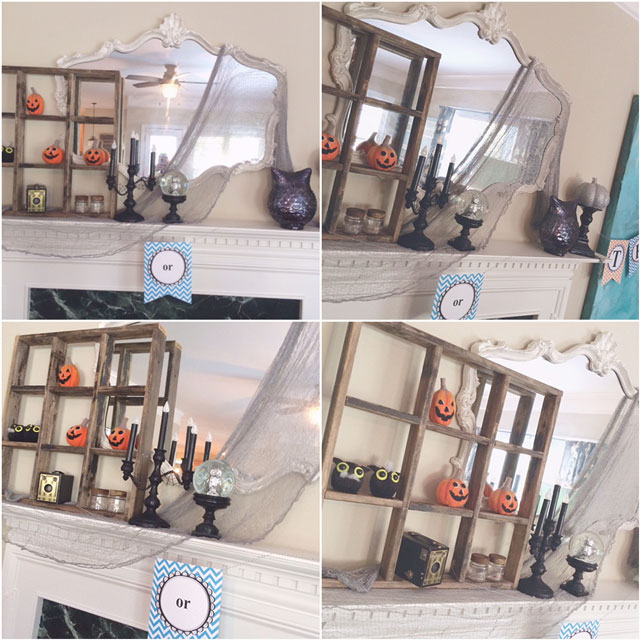 My girls had a great night trick-or-treating. And as we were going house-to-house, I started reflecting back on the last few years and even back to when I used to go trick-or-treating myself. Life has a way of moving on whether you want it to or not and whether you're ready for it or not.
This year, for the first time in what seems like a very long time, I felt a sense of peace and a sense of belonging. Does it really take almost three years to feel like you might actually fit in somewhere?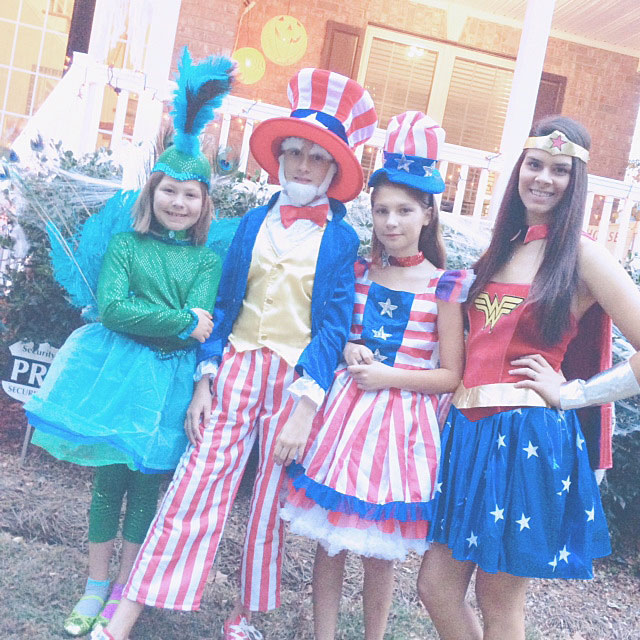 Anyway. Just some reflective thoughts after a long, but peaceful evening going door-to-door asking for candy! :)
Hope your Halloween was full of your favorite sweets and too much sour!
Posted in decorating, holiday
---