father forgive me …
Friends, I have recently signed on as a Compassion Blogger. September is Blog Month at Compassion and they're on a mission … sponsorships for 3,108 children living in extreme poverty, AID-affected areas, and areas with a high risk of exploitation and abuse.
Thanks to other Compassion Bloggers, 837 of these children have already received sponsorships … only 2,271 to go!
Can I share a few facts with you?
1 in 4 children under age 5 in the developing world is malnourished.
Every 30 seconds, a child dies somewhere from malaria – a disease that is preventable and treatable.
In sub-Saharan Africa alone, almost 15 million children have lost one or both parents to AIDS. Many of these vulnerable children have no one to turn to.
Natural disasters can wipe out communities for years to come – the 2010 earthquake in Haiti killed 220,000 people. One million are still homeless – 380,000 of them are children.
More than 10% of the world's population still does not have access to safe drinking water.
But there's hope. When disaster strikes, our Compassion gifts offer hope:
Emergency medical care.
Clean water, toilets and improved hygiene.
Immediate care for orphans and highly vulnerable children.
Disaster relief.
Education and training programs for caregivers.
Nutritional support.
HIV and AIDS response, including education, prevention, and treatment.
Malaria prevention and much more!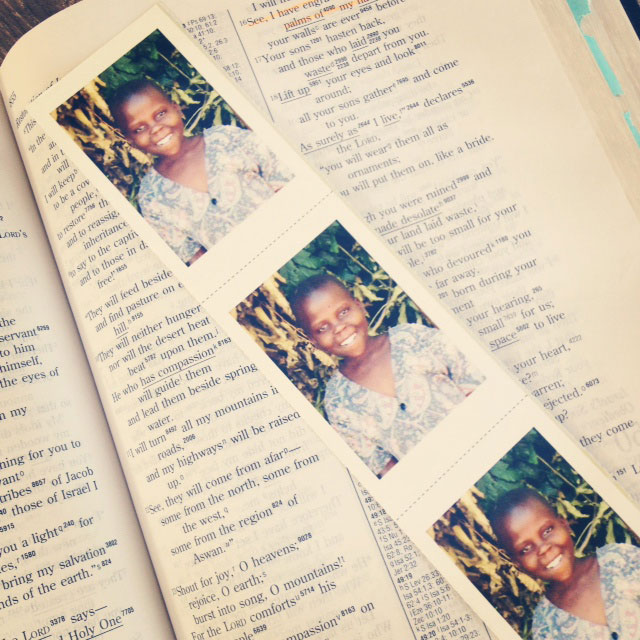 Through the month of September, the Compassion Bloggers are given writing assignments. This week's assignment is to write a letter to God about child sponsorship. Following is my letter.
Father God,

Forgive me.

Please forgive me for taking child sponsorship so lightly. Halfhearted. Thinking the money I send each month is enough.

Forgive me for going months without so much as a letter to Esther.

Forgive me for not keeping Esther in my daily prayers.

Forgive me for forgetting to continually share Esther's life and journey with my own children.

Forgive me for not including Esther as a part of our family.

Lord, break my heart for what breaks Yours. Let me be Your hands and feet to the least of these. Let me never take for granted the importance of sponsorship in these children's lives.

I thank you Lord for hearing my prayer … my plea.

In the precious name of Jesus I pray, Amen.
Friends, these children need not only a sponsor, but an advocate. Someone who's committed to praying, loving, and serving them. When I read this post and saw the photos on the wall and how their sponsor child had become a part of their family, I was ashamed of myself. Thinking I could toss money over the border and call it a day. Seriously ashamed of myself.
I'm making a commitment today to play an active role in my sponsor child's life … to bring her into my family and our lives.
Would you … could you … consider making a commitment with me? Would you consider sponsoring a child through Compassion? It'll make an eternal difference not only the life of the child you touch, but in your life as well.
Posted in compassion
---