how do we know we've forgiven?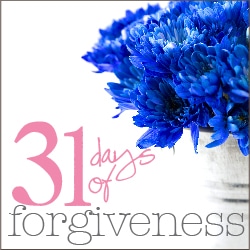 When God forgives, there is an immediate and
complete change in relationship.
Instead of hostility, there is love and acceptance.
Instead of enmity, there is friendship.
~ Billy Graham
In the deepest depths of our heart and soul, can we say we've truly forgiven someone?
A quick check might be to ask ourselves, "What does Jesus see?"
When my girls have misbehaved and try to cover it up with a lie, I ask them one simple question, not in judgment or condemnation—they don't even need to give me an answer. The question is this, "What did Jesus see?" The fact is, it doesn't matter if I know the truth or not, what's important is they keep their hearts pure before the Lord.
Only God knows our hearts.
If Jesus were to look into our hearts, would He see true forgiveness?
Granted, forgiveness doesn't always happen overnight. In most situations, forgiveness comes in stages and there's nothing wrong with that. God knows our hearts and our heart-motives. So then, how do we know when we've truly forgiven?
Following are a few things to keep in mind:
When we can wholly give the situation over to God.
Because let's face it, sometimes we want to hold onto it and play it over and over in our minds. We want to talk about it, justify ourselves, and prove our point.
When we can follow the command found in Matthew 5:44, "But I say to you, love your enemies. Pray for those who hurt you."
Personally, I've been guilty of this. When an offense has happened to me, I don't always immediately want to pray blessings over them and love them. But I know true forgiveness has come when the prayers finally come.
We stop thinking about it. We forget the crime.
All I have to say is—thank goodness God doesn't remember our transgressions. If He brought to mind every sin in my life over and over again . . . well let's just say it would be a sorry life to live.
Spiritually, an unexplainable peace finds its way into our hearts and minds.
Physically, it feels as though a burden has been lifted.
I have multiple sclerosis and when I'm under the stress of a situation needing me to look through the eyes of grace, my symptoms start to flare. The worry and stress cause a physical reaction in my body. When I've truly forgiven, I feel a literal physical change in my body.
Finally, I believe true forgiveness has come when we see the offender and can wish him/her well.

Father, I thank You—from the depths of my soul I thank You—for putting this series topic on my heart to write and share with others. Thank you for your great Word and lessons. Thank you for your sacrifice. Thank you for being the perfect model of forgiveness. Thank you for the work you've done in our lives through this series.
Father, I pray lives are changed. I'm praying for a break-through for everyone who reads these words. I pray Lord we trust you with our everything and know You'll be faithful, loving, and just.
In Your mighty name I pray,
Amen
####

Friends, I thank you for following along on this journey with me. I can't believe it's already come to an end. If there's one thing I could encourage you with? If you've read this series over the last 31 days … I urge you not to get stuck on one particular day. I believe all 31 days are intertwined in your process. I hope you'll pray over them, asking God to work and apply specific inspirations to your specific situations.
I'll be taking a little break over the next few days, but hope to be back next week with a few resources/videos I've found on forgiveness.
If you'd like to keep up with 31 Days of Forgiveness, you can
sign up to get each post sent right to your inbox!
{read 31 days of forgiveness from the beginning}
Posted in 31 days of forgiveness, forgiveness
---