somethin's a brewing!
I'm so incredibly excited to be working on a new blog design!  I loved my old blogspot redesign … just as far as the colors and the visual "interest" going on with it.
And while, I was excited to move over to this new photography blog so I could post larger photos … other than the gigantic photos, it's pretty boring to look at.
So when I found Jane's blog and found out she has a design business … ooo, I was all over that.  And when I found this retreat she offers … I fell in love!
Anyway.  She's close to being done … few more weeks I think to get all the code and technical stuff together.  But we're done with the design and I couldn't wait to share it with y'all … so here's a couple of teasers …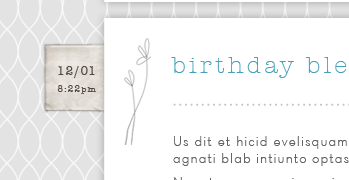 Posted in random
---