why does god allow bad?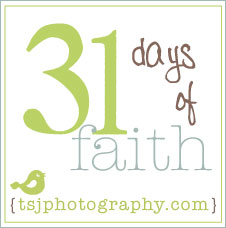 Have you ever wondered why God allows bad things to happen?
I have.
But that question hasn't kept me from believing.  Believing there's more to this life.  And even better … there's more after this life.
Trust me when I say that I've got a mile-long list of "really God? this had to happen?  And, why that one?  And, that just didn't seem fair."
But again … we don't have the bigger picture.  We don't know what we're being prepared for.  We don't know how He's knitting it all together.
Our job is to trust, have faith and through that … to grow closer to Him.
Do you know the story of Job?  He was a faithful man who loved God with all his heart.  The short of it is … the Lord allowed satan to take away all Job had … yet through it all Job remained faithful.  I've linked to a children's version of Job's life {I always appreciate me some cliff notes!} and I love this last sentence … "Job lived to be a very old man and died happy, full of knowledge and perfect in his understanding."
Job literally lost every.thing he had.  Yet because he remained faithful to a plan bigger than himself, "he died happy, full of knowledge and perfect in his understanding."
{read 31 days of faith from the beginning}
Posted in 31 days of faith
---