a journey of faith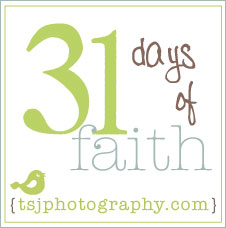 Since I hit the "publish" button on this post, I've been obsessing praying non-stop.  And when I was finally able to quiet my spirit to listen, trust … and have faith in this journey, I was able to put some thoughts together on what to expect this month.
I'm awakened in the middle of the night with thoughts and things to share and am finding that I'm becoming quite passionate about this journey!
I've decided my goal throughout this month is to take you on a journey of faith.
I believe that may mean something different for everyone.  Maybe your faith will be strengthened.  Maybe you'll find faith you never knew you had … or wanted.  Or maybe you'll just see faith in a new light.
Whatever faith means to you, my prayer is that you'll open your hearts + minds and allow your faith to be stretched in a way it hasn't been before.  I'm excited to journey this together … exploring, growing, stretching … emerging stronger than we were on September 30, 2011.
So … who's in?!?
My plan is to share some personal thoughts, situations … hopefully inspirations.  But I'll also share Scripture, songs, quotes, or devotional material I might come across.  My prayer is that you keep your hearts softened and wide open to what I share.
I'm trusting God to lead and share through me, what will touch you, inspire you, and cause you to grow closer to Him.
I'd also like to encourage you to consider writing down your own "faith journey" this month.  Whether you write a blog, or journal your thoughts … I'd love to have you comment or leave a link to any post you might write on your own faith thoughts.
My prayer is that at the end of this journey, your faith in Him and His promises will be stronger than you ever knew possible.
{read 31 days of faith from the beginning}
Posted in 31 days of faith
---