faithful obedience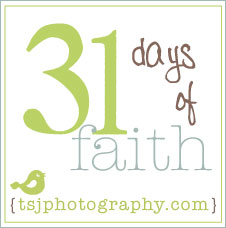 I've got quite a few things I still want to write about and share … nothing's pre-posted or scheduled, I've been doing my best to be intentional about what I write and when.  Waiting for God's prompting and for the words to come.  Well … and for the time to write the words when they come.
Because I had a few days of no internet connection and wasn't able to post … I'll be finishing up the 31 days of faith on November 3.  I think back to how worried I was that I'd run out of things to say and now I'm not sure I'll be able to squeeze in everything that needs to be said!
Anyway.  I have a few things rolling around in my head that I want desperately to share … but as I sit to write, the words aren't coming easy.  I'm not feeling well lately and I can't quite get my thoughts out the way I'd like.
Procrastinating, I start scrolling through my backlogged blog Reader and come to this post.  I'm not sure there are words to describe how I feel about it.  This. is. faith!
For anyone that hasn't heard of the Relevant conference, it's an incredible women's blogging conference that goes far deeper than blogging … it touches the deepest parts of your soul.  Tickets are sold out in days and women talk about it for months.  So when I read what Dee heard and the obedience that followed … I knew I was meant to share it with you.
I encourage you to please click over and read what she has to say.  Friends, this is faith in it's finest form.  What touches me the most is the last line she writes:
"And I am really excited to see what God's got planned instead.
I may not ever find out this side of heaven.  and I'm ok with that too."
{read 31 days of faith from the beginning}
Posted in 31 days of faith
---