i'm not okay with that!
I'll be honest, I was a bit leery speaking out about this … "this" being Bible poverty. Bible? Poverty? It didn't make sense to me. There are millions of people without food, water, homes, clothes, education … isn't that poverty? I couldn't wrap my head around the meaning of Bible poverty.
So I decided to dig a little deeper …

Bible poverty is a big deal! And I want to do something about it. Not only have I committed to having five verses translated each month, but I've also signed up with the OneVerse blogging team to help spread awareness to end Bible poverty.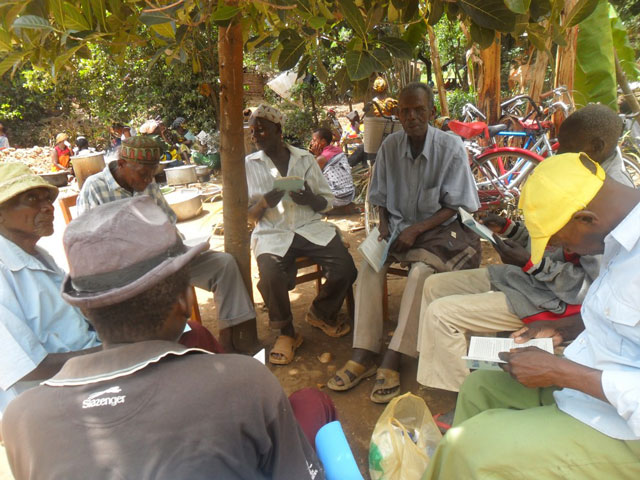 What does it take to translate the Bible? There are six steps:
First draft: translators analyze what a passage says and produce a first draft.
Team Check: translators check each verse for accuracy and clarity.
Community Testing: translators share drafted Scripture with community members to test how well it communicates.
Back Translation: translators translate the draft "back" into a major language for a non-native consultant.
Consultant Check: a consultant checks the translation with the team to make sure expected standards are met.
Proofread: translators rigorously proofread the final draft for errors before publication.
Here's a note we received from one of the translators:
"They are very happy now days reading their language. This is how the Word of God
works in them. Let all of us enjoy the good work, for serving the people.
There are some churches who are reading it aloud.  Many Vidunda people have
received copies of the portions of Mark and John and are using it.
Even school children are happy to receive copies because
they have been given out at some schools."
I think about some of my favorite scriptures. The scriptures my girls memorize each week. Their yearly verses. Their life verses. The promises of God's Word that I can share with them when they're worried, anxious, fearful, or upset.
I can look up a scripture on my computer, my phone, my ipad, or the 15-plus Bibles I have at home. My girls get a piece of candy at Sunday school when they bring their Bibles into church.
Yet millions … millions of people … children and adults alike … don't have access to a single verse!
People are dying each day without Jesus and the promises of God's Word. But you have the power to change that! For just $26/month you can sponsor the translation of a verse. You'll even get a monthly notice of which verse you helped translate.
Can I ask you to pray about this? Talk it over with your family … your spouses, your children. Let God stir your hearts for these people. Don't you believe everyone has a right to read God's Word?
I'm linking up with this incredible community of OneVerse bloggers committed to spreading awareness of the millions of people in the world without a Bible in their language … because we are not okay with that!
---