i will pray!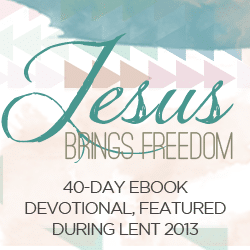 Apart from God, we can do nothing. Which is why we pray. The power of prayer is unlike any power we can fathom … beyond our realm of knowledge.
We pray for the ones we love, for jobs, for healing, for peace, safety, and direction. There are numerous things we pray for in a days time.
But do you know we're called to pray for those who need to hear the Gospel? To know the salvation found in our loving Savior?
There are 340 million people, nearly one-third of the world's language groups, who are waiting for God's Word in a language they can understand clearly.
Imagine. Opening the Bible and seeing only blank pages … it's the same thing as looking at a Bible not understanding a word it says. This video at The Seed Company website illustrates this point beautifully.
We all have a vital role in God's mission for this world … prayer.
And to lead the way in this effort, The Seed Company, has released a 40-day devotional ebook, that's available free! This devotional, Jesus Brings Freedom, is the perfect guide to prayer during this Lent season.
Would you commit to joining us?
It was my honor to write two days of devotions in this beautifully crafted devotional. I wrote on both forgiveness and redemption. Both tie in perfectly with my new book, 31 Days of Forgiveness, of which all proceeds are being donated directly to The Seed Company.
How many Bibles does your family own?
Have you ever thought what it might be like to open your Bible,
only to find blank pages?
don't want to miss anything?
sign up to get each post sent right to your inbox!
Posted in oneverse, prayers, the seed company
---