making it fit {repost}
If you want to forget all your other troubles,
wear too tight shoes.
~ author Unknown

They seem like a harmless pair of cute, toddler, jelly sandals, no?  Well … they were.
Until my cranky, ailing princess decided to try to squeeze her well-covered-with-socks-and-unhealed toes into them!
They just wouldn't fit!  And she just wouldn't give up!  All I could do was stand by watching incredulously as she struggled to get her feet into them.  Tantrum after tantrum.
I would gently tell her "they aren't fitting."  "Let's wait until your feet heal."  "Look at your sparkly 'Dorothy' shoes."
Nothing I said mattered.  She was bound and determined … all caught up in the emotion of a fresh pair of synthetic smelling jelly sandals.
Truth is … I finally had to walk away.  She.just.would.not.listen to me.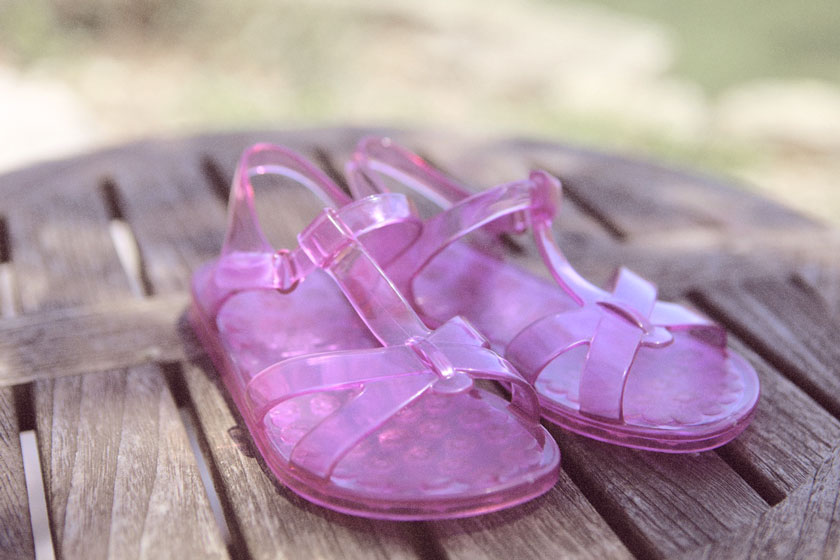 I wonder how often God stares at us incredulously?  Clearly, something in our lives just isn't working.  It's not where we're supposed to be … where He wants us … what he desires for us.
And yet we struggle.  We make it fit.
Until we're tantruming on our closet floor … all cried out, puffy-and-red-faced.
Meanwhile, God's gently telling us, "it doesn't fit."  "Just wait."  "Look over here at what I have better for you."
But we refuse to see it.  We're all caught up in the emotion of that new pair of sandals.
And so our loving God let's us go through it.  He lets us learn.  Until we come to Him with a new pair of shoes, hoping those will be the ones that fit comfortably.
Oh, but how great it would be if we didn't even have to go through that trial … walk all day in those very uncomfortable and ill-fitting pair of shoes.
Won't you trust in Him today? "Trust in the LORD with all your heart and lean not on your own understanding; in all your ways acknowledge him, and he will make your paths straight."  Proverbs 3:5-6
* * * * * * * * * * * * * * *

Today is Hunter's sixth birthday!! In honor of that, the rest of this week's re-posts will be about my babygirl! Bear with me? :)
Posted in hunter, inspiration, repost
---