one door closes, another opens …
"Faith never knows where it is being led,
but it loves and knows the One Who is leading."
~ Oswald Chambers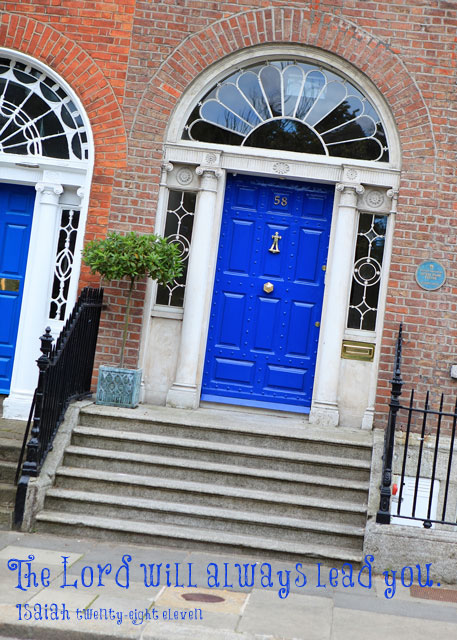 I know I shouldn't be … but sometimes I can't help but be in total awe of the way God works in my life!
There was something in our lives the girls and I were looking so forward to. I can't share all the details at this point … but trust me when I say this "something" filled us with joy and filled a void we'd been feeling for while now.
We'd made some changes in our lives over the last few months relying on this "something" to come to fruition. Our whole everything was wrapped up and counting on it.
And then God decided to shut the door on our "something."
We were devastated. Truly.
I heard God telling me He had something better in store for us, but in my despair and selfishness, I pushed His promises aside. In fact, I selfishly argued that we'd been through enough and deserved something positive to happen in our lives.
Arrogance much?
Fortunately, I've learned not to drag out my arguments with God and within a day had dried my tears, turned my heart around, and decided to trust Him. After all, trusting Him is a choice we've been given.
Faith is a choice.
I don't always know what His plans are, but I can choose to always trust.
And wouldn't you know? The very next day — the day after I stopped pouting and started trusting, just two days after our devastating news — God opened the door to a much better "something" for us. Something we'd never of seen or been aware of had He not closed that first door.
Once the girls and I were absolutely settled on knowing this second "door" was the best option for us …
Wouldn't you know? That first door opened up again.
Even though that original door has opened to us, we know in our hearts the second option is better and what's best for us. And we never would've seen it had God not redirected our paths.
Some may say it's "coincidence." And sure, it all could be, I'll give you that. But I prefer to believe God is leading and directing my coincidences in this life.
Have you ever had a door shut only to realize God had something much better in store?
---