write it, girl :: it's back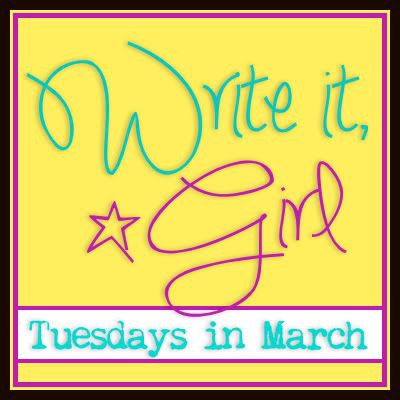 When I made this declaration last November, I had no idea what was in store! And P.S., after reading over the comments in that post I've been blessed and encouraged all over again! Thank you!
31 Days of Faith has indeed been birthed. And that second thing, that writing my story thing . . . I've put together a book proposal for a contest with Tyndale House Publishers. They're offering one lucky winner a publishing deal. The finalists and winner were supposed to be announced by now, but the conference and contest have been pushed back 'til later this Fall. So no news on that just yet.
Today I'd like to share with you about this writing thing . . . it's a funny thing . . . not the actual writing, but the writing "world." Oh my. Like any other specialized hobby, sport, craft, or interest . . . writing is a planet unto itself and I'm still trying to figure out how to land on it.
I continue to do research in understanding the best way to go about writing a book. I'm finding a critical element is having a platform, a tribe, people who will be interested in what you have to say. It seems gone are the days where books sell because they're good. In are the days where tweeting, retweeting, facebooking, and social media sell books.
It seems to be all about who you know and who knows you.
The release of 31 Days of Faith was a bit anticlimactic for me. Please . . . please know I'm beyond blessed to have it finished and out there for others to grow from . . . but allow me a moment to speak "aloud" what's in my heart?
It was beyond exciting to finally release the book and see it climb in ranking. But equally disappointing to see it's ranking plummet the very next day. When the book is being promoted and talked about, the ratings seem to go up . . . but one can only be so obnoxious with self-promoting before said person causes readers and followers to do the proverbial eye roll, while muttering, "Really?"
Okay. maybe that's me and my fear. But still.
I'm not a salesman, and in this writing world, it almost seems you need to be. Or at least have a tribe of friends who'll pitch it out for you.
The other day, a famous well-known blogger released an e-book and I watched as it burned up a planet called Social Media.
I will fully admit to you . . . in a very non-Christian, envious way, with the whine of a four old, I could be heard saying, "Why aren't people talking about MY book!?" Yeah. I went there.
Truth is, at times I still do.
I think it's the whole "please notice me, please notice me . . . I wanna be part of the club too!" school-girl mentality.
I need to be mindful, prayerful and remember, I'm writing His story, His heart. I'm writing for an audience of One. As long as I'm walking in obedience with what He'll have of me . . . the rest will come. It may not come as a best seller or top ten. But it'll happen just the way He planned it to happen. Nothing more, nothing less.
Anyway. There ya have it. My heart unveiled . . . the good, bad, and sometimes ugly.
But isn't that the miracle of our God? If I ask, He'll take my ugly and turn it into something beautiful.
Posted in writing
---