my heart …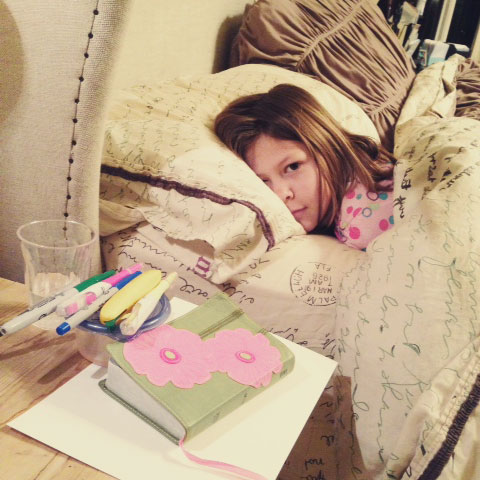 Hunter's somehow taken up residence in my bed. Shhh … don't tell anyone … but beside those heel-to-my-ribs midnight jabs, I really don't mind. There's something comforting knowing my babygirl is snuggled up next to me.
I didn't always feel this way, but slowly she's wiggled her way in and it no longer seems important to make her leave. My reasons were mostly selfish anyway.
I used to do my morning quiet time in my bedroom. I have a fireplace, coffee maker, my Bible and necessary accoutrements all within an arms reach. And seriously … how inconvenient for me to go into the next room so she can sleep in the morning!
But like I said … she wiggled her way in, and I no longer see it as an inconvenience. And instead of pining for my comfy bedroom luxuries, I've moved my morning time to the living room.
Let me take a moment and be brutally honest about something … lately, I have been completely and utterly exhausted. I used to have an internal alarm that would wake me at 5:00 am. Up and at'em, I was raring to go! But now? It takes all I have to drag myself out of bed in the morning to get my prayers and quiet time in before I start the day. Some days my snooze button gets a better workout than I do.
But. I know. I've learned. If I'm not intentional about my morning time — even if 10 minutes is all I can muster — then I'm basically willing my day to go astray.
All that to say …
Hunter's my earliest riser and most mornings she finds her way out to the living room for some early morning snuggles, before a little iPad or TV time.
But last week, she completely shocked me! She was getting ready for bed and asked me to wake her up so we could do "quiet time" together. She told me she had her Bible, pens, and paper all ready to go for the morning.
My first impulse was to tell her she was crazy!! Ain't no way a momma's gonna wake a sleeping baby before sunrise to do "quiet time." Not to mention the fact she'd interrupt my quiet time!
Instead I bit my tongue.
Yes babygirl … I'd be honored to have quiet time with the Lord together.
And we did.
Is there something you stay intentional about and see it pay off in your children?
Posted in hunter, intentional, parenting
---